---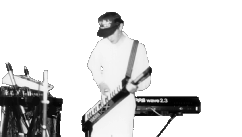 ESCAPE 1995->
Escape are a dance outfit who specialise in Underground Dance Music with a commercial element. They are based in the North of England and operate out of a small private studio to the East of Manchester.
They formed during the last months of 1995 and started work on an Art of Noise remix. This helped them get the attention of Virgin Records. They were not ready at this time for success and still had quite some way to go. They had, after all, only produced one song and already had major interest.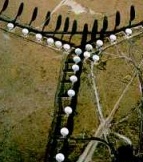 Escape being Master Jackster and Taf. Master Jackster is very outward going and likes to spend much of his night time frequenting the various clubs always on the lookout for the latest sounds.

Taf was very much tied to the recording studio.

1995
Interest from a major record label after recording only one song.
1996
Signed to independent record label "Synthetique".
Formulated an advertising campaign for Air-Wear (Doc. Marten's).
National TV appearance on Channel-4.
Live appearance at Club Underground in Manchester.
Management deal with B&H management.
Remixed "I Love America" for Stress Records.
During the Spring / Summer of 96, The duo were offered an advance from Rob's Records. Although at this point they hadn't actually signed up with them, they were given the chance to work with Engineer Martin Descai and the partnership was sounding better than ever. The Hacienda subsequently purchased the track 'Time Squad'.
During June 96, Synthetique records became interested and on the 28th of June Escape signed with Synthetique Records. This was a very simple contract binding 3 tracks to them for 3 years. The tracks were Yakuza, Metropolis and Shifter.
After Escape appeared on Channel 4 television in July 96, a manager contacted Escape and within a couple of months set up a deal to remix a track called 'I Love America' by 'Full Intention' for Stress Records. Escape started work on 12th October and did the final mix on the 4th November 96.
At 11:30pm on 16th October 1996, the public of Manchester saw the first ever stage appearance of 'Escape'. The duo was silhouetted with keyboards against a backdrop filled with projected images. The tracks played included Yakuza, Shifter, Time Squad and Mirage.
1997
Recorded new material including 2-Tribes remix.
Interest from Universal Records in latest tracks.
The duo took a rather large break during 1997 to pursue other interests.
---
Home Page
Tracks recorded by Escape
Equipment Used
Links
---
Web hosting and design by Vision Internet Services.
Created July 29, 1997.